WHAT'S NEW IN PENNY LANE GRAPHICS WORLD?

March 27, 2013
Logo for America's Coolest Small Town
Budget Travel magazine named Lititz, PA America'sCoolest Small Town. Here is the logo chosen as the official logo.
February 14, 2013
Brochure Design for Lititz Sign Company
For 25 years Lititz Sign Company has been the premiere sign designer, maker, installer in PA, MD, DE. Colorful brochure will be used to generate more business.
January 2013
Postcard and Business Card Design for Dean Martin Las Vegas Impersonator
Seth Abrahms puts on an amazing show featuring Dino and his greatest hits.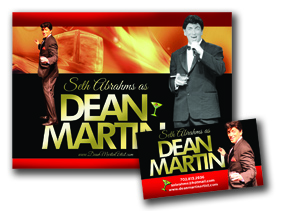 Ad Design for Discovery Map of Lancaster
Many people visit Lancaster County, Pennsylvania for the Amish... there is much more to see and do in Lancaster County. Pick up a Discovery Map and you will see. You can visit the website too and use the MapApp. It's easy and fun to use.

25th Anniversary of Shark Week on Discovery Channel
Discovery Channel and VaynerMedia selected my graphic illustration for a part of a tune-in experience! They are featuring my artwork as part of a special GetGlue check-in countdown leading up to Shark Week.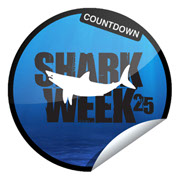 June, 2012
Lititz Springs Park 4th of July Celebration
Logo, poster, website, rack card, direct mailing piece and more! "Our American Heroes" honoring the veterans that served so we can be free. I've been doing the design work for the Lititz 4th of July celebrations for the past 20 years! One of these years I'll get it right! Wow, 20 years!




May 15, 2012
Emazing Grace CD Design Project
Local singers first CD. If you love the banjo and guitar these girls will surely make your feet start tapping and your air guitar strumming.!




February 11, 2012
Whitney Houston Tribute
Legendary iconic singer, Whitney Houston died too early. Heaven's choir just got so much better! If you follow me on Facebook, you will see I do these for departed celebrities all the time.




August 30, 2011
Penny Lane Graphics Turns 15 Years Old
Fifteen years ago, in August of 1996, Penny Lane Graphics joined the Internet Revolution.The website showcased a few samples of illustration and graphic design as well as lyrics from The Beatles.The image below shows the very first landing page for Penny Lane Graphics. Thanks to all of our clients throughout the years! Here's to another fifteen years of great design and illustration work!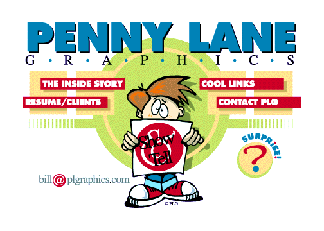 August 17, 2011
Poster Designed for New York City's Off Broadway Booking
Prather Entertainmnet Group will be producing a national tour for Fiddler on the Roof. I was asked to design the tour poster. Here it is. You can see more information about the show at www.obbnyc.com/#fiddler .




August 10, 2011
Kodak/Graphic Design USA Cover Contest Results
Although I did not win the contest, I was one of the top ten! My design will be printed in the September 2011 issue of GDUSA.




July 25, 2011
Seven Logos by Penny Lane Graphics Seleceted for Design Book
This week, Penny Lane Graphics, Lititz, Pennsylvania was honored by having seven logos included in the new David E. Carter book, Trademarks 1 - Bright Ideas in Logo Design from Around the World.

While Carter has a long history of creating hard-cover books that are big sellers around the world, the new book is unlike all the 114 other books he has produced. The new book is the very first graphic design book that is released exclusively as an eBook, and is available at www.brightbooks.com.

Carter explains his transition from ink-on-paper to eBooks: "I watched with interest at Amazon's Kindle changed the book industry. But -- the Kindle is black and white. I envisioned a day when my color graphic design compilations could be available as eBooks. Once the iPad came out, that opened the gates for me. That was just the beginning. Now, ebooks can be read on virtually any computer."

The book includes nearly 2,000 logo designs from around the world, whichwere chosen from over 6,000 pieces that were submitted. "I was very happy to have the work of Bill Dussinger of Penny lane Graphics included in the book, as he had some of the most outstanding work that was submitted," Carter said.

Carter previously had a long-term relationship with HarperCollins, the global publishing giant. Now, he's exclusively published by www.brightbooks.com.

Carter's books are available online in the ePUB format, which is compatible with the iPad, the Nook (from Barnes & Noble) Adobe Digital Editions, and many other readers. Most of the reading devices are available for free download for use on computers.

Carter is most excited because his new eBook presence makes his graphic design books available to a much larger audience - especially the young creative people who are the future of the industry.

Carter explained, "my ink-on-paper books sold for $49.95 - and they took 6-8 months to get into print after the final edit. Now, my books are available within an hour after final edit, and the price is anywhere from $12.99 to $14.99. Imagine what that price difference means to students who want to be inspired by the best new work out there in the graphic design world." And, Carter said, "that doesn't even consider the time advantage. My books are out 6 to 8 months sooner now -- so the work in my books is truly fresh."

"This is where I want to be in the book world - leading the revolution in bringing creative compilations to eBooks, which is the future of book publishing." Carter said.




July 12, 2011
A Day in the Life of John Lasseter
I am a huge fan of Pixar and Disney. John Lasseter is one of my all-time heroes. He has a secret room in his house for his trains! He has 370 Hawaiian shirts! His office is full of toys! Wtach this full 25-minute mini-documentary, titled "A Day in a Life," follows Lasseter through his day — from playroom to screening room — during the production of "Cars 2."

This is probably most revealing look yet at Lasseter's managerial style and creative approach, as he gives out morning hugs and "cheerleads" for the film, all while running through a parade of directorial decisions big and small. Quite the busy day.

And everywhere, it seems, is the world-class talent — artists practicing their magic behind every studio door. What a dream to be able to work with Mr. Lasseter.